STCW -Basic Training (BT)
Basic Training STCW Scheduled May 08, 2017
We offer all four courses needed for STCW Basic Training. Classes are offered in Chicago Area, Sturgeon Bay, WI and Green Bay/Appleton, WI. Courses are scheuled month. However, we need a minimum number of students to hold each class.
These classes are National Maritime Center approved and meeting the 2010 Manila Convention changes to STCW.
Fee: for all four Basic Training course taken at the same time $995.00

Elementary First Aid (Classroom): 8-hour course with instruction on providing immediate basic medical care at the scene of an accident or medical emergency until the arrival of qualified medical personnel. Instruction includes First Aid, CPR, and AED training. Two year certification card is provided at successful conclusion of course. Course also meets NMC requirements to obtain your Merchant Mariner Credentials.
Fee: $150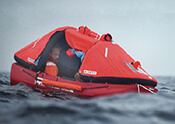 Personal Survival (Classroom): 12-hour course provides training in personal survival techniques at sea. Emphasis is on skills needed to survive in the event of ship abandonment. Training includes abandonment scenarios using life rafts, life jackets and emergency radio equipment in a pool. Fee: $400. Make sure to bring swim suit and work cloths for pool checkout
Personal Safety & Social Responsibility(Classroom and online): This 4-hour training provides seafarers with a better understanding of human relationships and how they relate to living and working on-board vessels. Topics include: group behavior, personal interaction, conflict resolution, fatigue, and general personal safety.
Fee: Classroom $125. Online $100 but doe not include proctor fee ($0 to $40) Enroll today.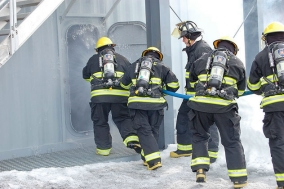 Basic Fire Fighting: This two day course consists of classroom lectures, demonstrations, and hands-on experience. Topics include fire chemistry, fire classification, prevention, protective clothing, portable extinguishers, breathing apparatus, fire behavior and attack, foam application, and advancing small hose lines. On the second day, students will apply what they learned in a live fire exercise.
This course meets requirements:
Fire Prevention and Fire Fighting per STCW Code Section A-VVI . Fire Prevention and Fire Fighting per 46 CFR 11 .302(a)(2) and 46 CFR 12.602(a)(2). Basic Fire Fighting per
46 CFR I 1.20 I (h)(2) [Basic only] and 46 CFR 11.20 I (h)(3)
The fire fighting requirements for a national tankerman endorsement in 46 CFR 13.201(c) (3), 13.30 1(c)(3); 13.401(d) and 13.50 1(c)(3). Satisfies all associated TASKS from NVIC 08- 14, Assessment Guidelines for Fire Prevention and Fire Fighting: 3.2.A, 3.7.A, 3.8.A, 3.8.B, 3.8.C, 3.8.D.
Fee: $450; If combined with Advance Fire $995