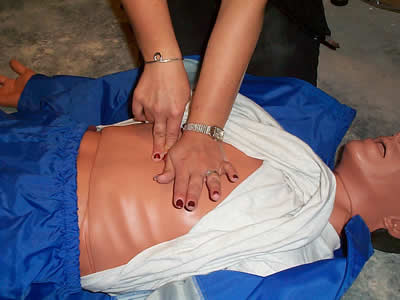 STANDARD FIRST AID, CPR & AED
Emergency Care & Safety Institute (ECSI)
Require to get your original Merchant Mariner Credential. We offer these courses in combination with our Captains License classes
Standard First Aid, CPR and AED provides clear, concise direction on how to perform CPR and use an AED during an emergency and how to deliver high quality first aid.
This course was developed by the Emergency Care and Safety Institute, a collaboration of American College of Emergency Physicians (ACEP) and the American Academy of Orthopaedic Surgeons (AAOS), and meet all the current national standards. Explorer's Guide is an approved Education Center for ECSI. (920)733-5500
Choose either a classroom course or online course, with skills evaluation by one of our approved instructors. We print out your certificate immediately after you complete your skills checkout. This is ideal for small group needing First Aid/CPR/AED training
The online course meets the requirements for a true skill checkout with mannequins and demo AED
Available in two formats: Classroom, 5 hours or online with classroom skill check off. Online is ideal for anyone of the go. Four hours online with a skills checkout with Brenda, RN. We provide skills checkout through the day at our office.

Includes First Aid, CPR, and AED coverage in a single, streamlined program.
Fee: $65.00
Explorer's Guide Maritime Academy
611 N Lynndale Dr, Suite 125
Appleton, WI 54914 (920)733-5500