STCW Basic and Advance Fire Training

Enroll today - Call 920-733-5500
Explorers Guide Maritime Academy has partnered with FIRELLC, and Midwest STCW LLC to bring you National Maritime Center approved Basic and Advance Firefighting training. These course meet the requirements in 46 cfr and Standards of Training Certificate and Watchkeep (STCW) as established by the IMO.
It meets the training requirements for: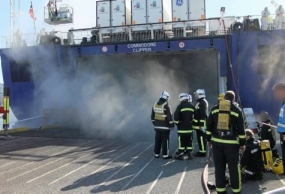 Master of vessels of less than 200 GT in ocean service

Master or Mate on vessels over 200 GT

Master of Uninspected Towing Vessels


Licenses on mobile offshore drilling units

Engineer Licenses & Endorsements

Tankerman Endorsements
FEES: Basic Fire only $450; Advance Fire $750; Combine Basic and Advance $995
Classes: scheduled Fox Valley Career Center Fire Science Training Center located at; 47W326 Keslinger Road, Maple Park, IL; Village Howard, Green Bay; and at a new field in Sturgeon Bay WI
If you have 6 students, we can schedule a class to meet your time schedule and needs.
Basic Firefighting (STCW): This two day course consists of classroom lectures, demonstrations, and hands-on experience. Topics include fire chemistry, fire classification, prevention, protective clothing, portable extinguishers, breathing apparatus, fire behavior and attack, foam application, and advancing small hose lines.
On the second day, students will apply what they learned in a live fire exercise using SCBA's, fire hose and fire extinguishers.
This course meets requirements:
Fire Prevention and Fire Fighting per STCW Code Section A-VI .
Fire Prevention and Fire Fighting per 46 CFR 11 .302(a)(2) and 46 CFR 12.602(a)(2).
Basic Fire Fighting per 46 CFR I 1.20 I (h)(2) [Basic only] and 46 CFR 11.20 I (h)(3.
The fire fighting requirements for a national tankerman endorsement in 46 CFR 13.201(c) (3), 13.30 1(c)(3); 13.401(d) and 13.50 1(c)(3).
Satisfies all associated Tasks from NVIC 08- 14, Assessment Guidelines for Fire Prevention and Fire Fighting: 3.2.A, 3.7.A, 3.8.A,3.8.B, 3.8.C, 3.8.D.
Advance Firefighting (STCW): This course is designed to meet the STCW 95 requirements. It examines fire fighting techniques and control of fire fighting operations with emphasis on organization, tactics, and command functions.
You will also be trained in fire investigation and prevention.
This course does not use any live firefighting activities due to the management and planning nature of the course.

This course satisfies: 46 CFR 11.205 (l) (2); 46 CFR 11.205 (g); 46 CFR 11.401 (g) (1); STCW 95 Section A-VI/3 and Table A-VI/3
Prerequisites for Advance Firefighting: Student must have completed an USCG approved Basic Fire Fighting course before they can take the advance firefighting.
FEES: Basic Fire only $450; Advance Fire $750; Combine Basic and Advance $995